REDFISH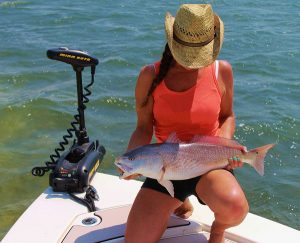 When the water temperature drop below 65° micro organizes will die off.  This leaves the water clearer than what we find in warmer months.  The benefit of clear water is twofold.  The sun can penetrate a little better to warm dark bottoms and sight fishing is possible.  The best time to fish is between 10 AM and 2 PM on a falling tide on a bright day.  This allows the sun to work its magic and heat the flats.  As the tide starts falling redfish will congregate at a drain point.  Frequently there will be large schools in the drain or staging just outside the drain.    Shrimp and mullet are not present in large numbers so the bait of choice at this time of year is crabs.  Any small crab or crab knuckles will work.  How to catch FIDDLER CRABS in WINTER.  Another choice is a  BUCKTAIL JIG.  which can be worked very slow because the hair flutters in the current giving the appearance of a live crab.  A CRANKA CRAB imitation crab is a good lure to work near an oyster bar or in the drain of a flat.  Mud minnows are still present and make a great redfish bait all year.
If you are on a rising tide use Google Earth to location oyster bars on the flats.  Since oyster bars provide protection for small crabs they also are buffets for redfish.  Use the same lures as the falling tide but cast so you can bring your bait down current past the oyster bars.  Stealth is important because fish on the flats are on high alert because they are in shallow water. Make a long cast and be careful to not bump anything in your boat or kayak.
The third option is fishing deep holes during a cold snap or at dead low tide.  Usually, the second or third day of the temperature drop is best.  Fish a 3-inch Gulp Mullet in ivory.   DOA Shrimp is also great bait.  Live shrimp drifted just above the bottom is always a killer plan.
TROUT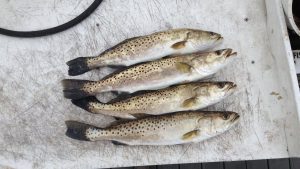 Winter is an interesting time to fish for trout. Trout are slightly more tolerant of cold winter water than redfish.  They usually hold in deep holes in creeks.  Only going onto flats during the coldest water conditions.  Look at the outside bend in the many creeks in northeastern Florida on Google Earth.  Live shrimp, DOA shrimp, Vudu shrimp, or Gulp shrimp below a float is an excellent way to go.  A Gulp minnow on a jig head as light as possible to reach the bottom.  You may have to weed through a dozen or more small trout to catch a limit of keepers.  On the flats, trout will be looking primarily for mullet so any mullet imitation will work.  Remember to keep your presentations slow because their metabolism is slowed in winter.
Sheepshead & Flounder
Sheepshead and Flounder are offshore spawning from January to March so are not the best fish to target inshore.