Black Drum
Black drum will be in the mouth of the Nassau River and the St Marys rivers in late February.  Fish half a blue crab or large fresh dead shrimp dead on the bottom.  Look for the full moon around the middle of February for the best action.
Redfish & Trout
Redfish and trout will still be in the creeks.  Fish the last of the rising tide and the first of the falling tide during midday when it is bright and sunny.  Fish shrimp either on a jig or under a float in 5 feet or less water.  A Berkley Gulp Shrimp will work as a great substitute for live shrimp.  The fish will be coming off the marsh as the water drops.  Concentrate your effort around structure such as boat docks, oyster beds, and any other ambush point.
On a falling tide fish just like in January on a sunny day fish will be using the mudflats as a sauna to warm themselves and feed.  Fish shrimp, mud minnows, or a Vudu Shrimp on a light jig near exits from the mudflat or in the deeper water in the main creek just outside the exit.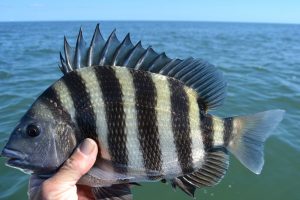 Sheepshead
Sheepshead action should pick up as the adults come in from the offshore mating run.  Look by the jetties on the St Marys River or St Johns River.   Rocks and docks will be filling up with hungry sheepshead as the month progresses.  As always fish close to structure with live fiddler crabs or a Cranka Fiddler Crab Lure,
Whiting
Whiting will also be moving into the surf as the water warms.  Fish a double dropper rig with Fish Bites in clam and/or sand fleas flavors.  Gulp also makes a sand flea imitations that look just like a sand flea. If you can find live sand fleas definitely go that route.  The Crady Bridge should also provide the opportunity to catch some whiting or black drum as they return from offshore.