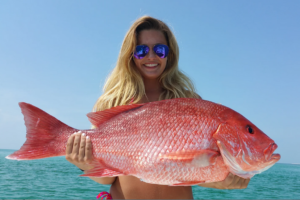 AUSTIN- The private recreational angler red snapper season in federal water opens Wednesday, June 1, 2022. Red snapper fishing is open year-round in state waters. Bag and size limits will remain unchanged. The regulations are 2 fish per person daily with a 16-inch minimum size limit in federal waters, and 4 fish per person daily with a 15-inch minimum in state waters. Red snapper caught in federal waters count as part of the state bag limit of 4 fish. No more than 2 red snapper in federal waters and 4 red snapper in state waters may be in your possession while fishing.
Also, new federal regulations are now in effect as of January 2022. The DESCEND Act requires all commercial and recreational anglers to possess a venting tool or a rigged descending device on their boat while fishing for reef fish in the Gulf of Mexico. Research shows that properly releasing reef fish reduces mortality for reef fish species like red snapper.
Since 2018, the National Marine Fisheries Service has granted the Texas Parks and Wildlife Department (TPWD) the authority to establish the opening and closing of the red snapper fishery in federal waters off the Texas coast for private recreational anglers fishing from their own vessels. However, Texas must close the fishery when the state's allotted poundage is reached.
The federally permitted for-hire sector continues to be managed in its current structure set by the federal government.
The public will be notified of the private recreational season closing date by the Coastal Fisheries Division before the state's allotted catch limit has been reached. When a closing date is determined, all communication platforms will be updated including the Outdoor Annual, website and social media accounts.