Mullet mullet everywhere.  The mullet will be migrating from the cooling water up north and the predators will follow.
Tarpon
Tarpon, use appropriate tackle,  a reel that holds 200+ yards of 50-pound line, I prefer braid with a medium heavy rod.   Your leader needs to stand up to the sandpaper mouth of a tarpon so 80-100 pound mono is best because it has some give when the fish surges.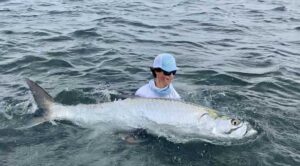 Hooks depend on the size of bait not the size of the fish.  Use an 8/O or even 10/O for mullet or pogy.    Look for schools of mullet and place your bait near the school either free line or with a sinker on the bottom and hold on.  An alternative to live bait is large mullet plugs either surface or diving.  My favorites are the Yo-Zuri Mag Darter Floating Diver 6 1/2 Inch Medium Diving Crankbait or the Tsunami Talkin Popper Saltwater Striper Surface Lure Black Silver TSTP4F-1.
Redfish
You will find finger mullet in the creeks and marshes as they move south.    They typically will be found along spartina grass or the edge of the many creeks off the ICW.  Favorite lures include the Rapala Rapala Skitter Walk or a  FishBites Fight Club Lures – 5″ Dirty Boxer Curly Tail on a Fishbites Fight Club 1/8oz Jig Head fished on the edges of the schools.  A live finger mullet fished on a fish finder rig or under a float will also catch plenty of redfish.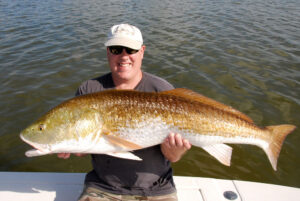 In the surf, a finger mullet tail hooks or a cut bait of mullet on the bottom will bring in some redfish.  The same lures above will work when the surf is calm or in the trough.
The inlets will hold plenty of redfish.  Fish a cut bait of mullet on the bottom.
Flounder
Flounder will hold in deeper water in the many inlets of Florida or the deepest creek mouths.  You can use oversized mullet to catch the biggest fish of the year.  You may need to upsize your weight to hold bottom with a large mullet of 9 or 10 inches.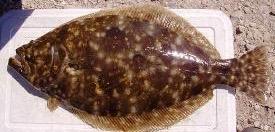 Move the mullet slowly along the bottom.  When you feel more weight just stop reeling and count to 20 before setting the hook.   I recommend a circle hook in the 7/0 to 10/0 range.   I've had flounder follow a bait from the bottom to within 3 feet of the boat in 12 feet of water so be alert to not pull the hook out of their mouth if they follow the bait up.