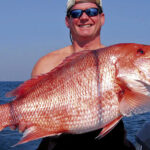 The National Oceanic and Atmospheric Administration Fisheries Division last week announced a two-day season for red snapper that will allow a one-fish-per-day bag limit, per angler July 8 &9, according to the Center for Sportfishing Policy.
The organization says the extremely limited season does not line up with the abundance of fish anglers are seeing and that during the last 12 years, the recreational sector has been allowed to harvest red snapper in South Atlantic federal waters a cumulative 44 days.
"Saltwater anglers annually spend more than $7.8 billion on fishing trips and durable goods in the South Atlantic," Jeff Angers, president of the Center for Sportfishing Policy, said in a statement. "Experts believe current abundance of South Atlantic red snapper is the highest it has been since the 1960s. Yet anglers are caught in a vicious cycle of a management regime based on guesses that is penalizing the success of this rebuilding stock."
According to the statement, U.S. Representatives John Rutherford, R-Fla., and Stephanie Murphy, D-Fla., in 2021 led a bipartisan effort to fund a $3.3 million study on the South Atlantic red snapper fishery. The 30-month project, modeled after the Gulf of Mexico "Great Red Snapper Count," will estimate the number of red snapper in a wide-ranging area, including habitats that are not currently targeted by traditional fisheries surveys.