Cobia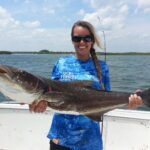 Cobia patrol the waters just beyond the surf.   Look for rays and there may well be a cobia following.  A tried and true method for Cobia is to troll between the buoy markers in the St Marys inlet.  Frequently they hold right next to the markers.  Cobia are also curious and will swim up to your boat while at anchor.  Make sure to have a rod ready this time of year.  It is a good idea to have a club to dispense a keeper cobia before bringing it on board.  They are notorious for going crazy once taken out of the water.  Tackle should be appropriate for fish that can get to 100 pounds.  This is a great fish on spinning tackle.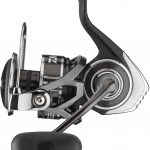 Using a  Daiwa BG4000 or a BGMQ6000 will both get the job done when paired with a Daiwa Seagate boat rod.  A Penn Spinnfisher VI 5500 or a Penn Slammer IV 5500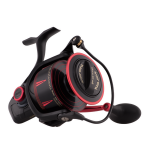 paired with a Penn Carnage III boat rod is also a great combination.
Bait for cobia range from live eels, shrimp, mullet, menhaden, and fresh squid.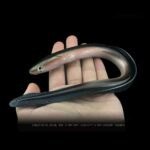 Large dark plastic eel.  A 6″ Fish Bites Curly Tail on a 1 oz jig.
Tarpon
Tarpon, jack crevalle and king mackerel are migrating along with the menhaden.  Sometimes that can be taken from shore or just beyond the surf.
Trout
Fish dock pilings, oyster beds, and rocks on an incoming tide for spring trout.  Gulp Alive Soft Plastic on a jig or a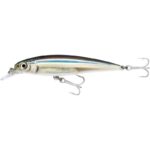 Rapala X-Rap mullet will fill the limit.
Redfish
Redfish will be active in spartina grass in the last hour of high tide.  Also, cast around oyster bars with 3 or 4″ Gulp Shrimp or a fiddler crab lure. 
Surf Fishing
Pompano and whiting should be hot in June.  Go the day before and get some sand fleas.  Bonnethead sharks show up in June.  Their preferred meal is half a crab.  Your terminal tackle needs to be up to the task.  A 100-pound mono leader or a wire leader is needed to keep from being bitten off.  Hooks should be 5/0 to 7/0.  Fish the surf early or late in the day for the best results.