April Forecast
Black Drum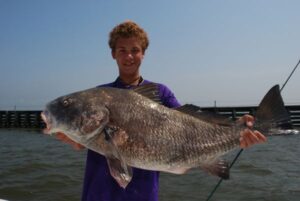 Heavyweight black drum will be holding in the St Mary's River and Nassau River mouths.  Usually, they will be in the deepest water and can be tempted with a half crab or a shrimp.  The flood tide on April 1 should be the hottest bite.  Night fishing is the preferred method for truly large fish.  Fish over 50 pounds should be handled with care as they are the breeding stock for future generations.

Bull Redfish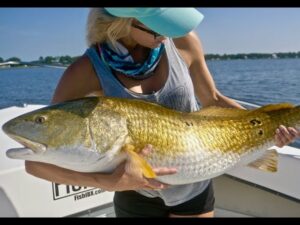 Bull Redfish move into the surf as they come in from their offshore haunts.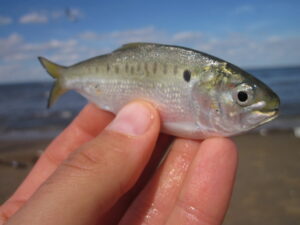 They will be chasing menhaden.
Sheepshead
Sheepshead are plentiful inshore around structures that hold barnacles.  Fiddler crab, shrimp or a LURE will work best.
Surf
Whiting are being caught in good numbers in the surf.   Occasional bluefish or black drum.
Pompano are just south of the St. Johns River as of early April but should be moving north as the month progresses.
A Got-Cha lure should produce bluefish and Spanish mackerel.
Trout & Redfish
Trout and redfish are abundant in the backwater creeks off the St. Marys and Nassau rivers and Amelia River.
The new moon on April 1st and the full moon on April 16th will present opportunities to site fishtailing redfish in marsh areas.